Office cleaning
We can arrange office cleaning for clients with a single office, multiple offices and office complexes in Brighton, Hove, Portslade, Shoreham and surrounding areas.
We know that keeping the office environment clean and fresh contributes to a working environment that is both pleasant and efficient to work in.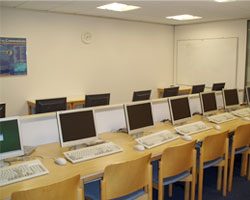 Office cleaning
Different clients have their own individual requirements with regard to a cleaning schedule. However we are very flexible and adapt to meet the clients requirements. Whether it be acting as a key holder and cleaning the offices outside working hours either early morning or evening or increasing numbers of clients now like the cleaning to take place whilst they are still working.
For contract cleaning companies office cleaning is the most competitive market to break into. Some organisations change their cleaners on a regular basis, every year or some even every six months because they cannot find a company that will consistently meet their requirements. What we find is that some companies do not have a clear indication of what is expected from the clean. After some time they complain that standards have fallen.
This phrase 'standards have fallen' is oft repeated by a company representative who is complaining about the cleaning. So you ask what aspect of the cleaning has or is not being done. The reply is often along the lines of, well its all being done but the standard is not what we have come to expect. So you then ask if they can give specific examples so that these can be rectified. Answer; "not really its just that standards have fallen". This is the most frustrating part if you are the cleaning services company. So you go in to visit the premises, talk to the company and to the cleaners.
Why does this happen? It can happen for a number of reasons:
For example it may be that some employee has found cup rings on their desk in the office and complained that these are not being cleaned. The cleaners when approached about this maintain that they can never clean that particular desk because it is always full of documents. Or somebody has moved their workstation and complained about the amount of fluff and dirt accumulated around the wiring of their computer. As a result the cleaners are obviously not doing a good job.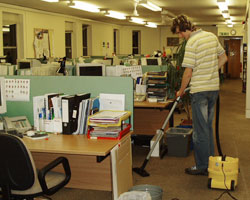 Office cleaning
How are these problems overcome? The best way of avoiding these problems we find is to carry out a cleaning survey of the premises in which such details can be highlighted and a possible remedy suggested. For example desks can be polished on a rota system in the office and when it is time for a particular block of desks to be polished the individuals whose desks are being done are informed of the impending clean and instructed to clear their surfaces. If they do not then they cannot complain if they are not polished.
Having produced a detailed cleaning survey it should then be possible to sit down with the client and discuss which parts they would like to take up and which can be ignored. On this basis a quote can then be provided. Both parties are then very clear as to the extent and standard of the clean. So what was subjective before becomes objective and measurable. The cleaners should know exactly what is expected of them and the customer should have a more realistic and objective appraisal of the cleaning Proper.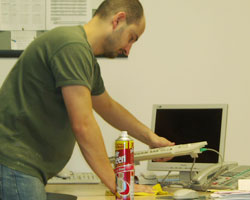 Office cleaning
Vacuuming Puts the Final Touch on Office Cleaning After emptying the bins and doing the dusting, it is time for vacuuming, that final step to keep your office buildings looking clean. Vacuuming properly does more than just get up the dust and soil particles that can cause permanent staining and damage to a building's carpets. It also prolongs the life of carpets by removing gritty particles that can cut and scratch carpet fibres and hold microscopic soils that cause discoloration.
Vacuuming regularly will prolong the periods between carpet cleaning in your office. Carpet cleaning can be expensive and it is also rough on carpet fibres. A properly vacuumed carpet removes not only soils and dust, but also pollens that can irritate allergies and breathing problems.
"We always try to be careful not to bump furniture, walls, corners and equipment while vacuuming."
We believe that a thorough and complete vacuum job includes vacuuming under chairs, tables, desks, bins and other easily moved items. Also vacuuming along edges and behind doors.
If we have to move any chairs or light objects, we make sure to put them back into place after vacuuming the area.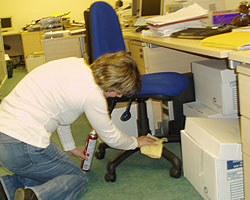 Office cleaning
We put the final touch on your office cleaning by proper vacuuming. Vacuuming is not only important to keep your office buildings clean, but will also prolong carpet life, and help to keep employees and visitors to the building healthy. Following proper vacuum techniques will keep your buildings cleaner and your clients happy!
We are happy to carry out cleaning of your office at a frequency to suit your requirements.
Once we have provided you with a free quotation and prepared a cleaning specification tailored to your office and requirements before we start cleaning your office on a regular contracted basis, we will at no charge whatsoever, give your office a thorough spring clean to bring your office up to a high standard for us to maintain.
As with any business from time to time a problem may occur. The structure of our office cleaning company is such that we are able to resolve the problem immediately to ensure the continual smooth running of your cleaning contract to your satisfaction.

All our customers are very important to us and you are guaranteed a first-class and reliable service. We realise that the appearance of your premises is a reflection of your company's standards and you can rest assured you will receive our best attention at all times.

"We specialise in cleaning of common ways, small to large sized offices, pubs, bars and restaurants "
Our services include
Office, commercial and contract cleaning
Common ways cleaning
Pubs and Bars
Washrooms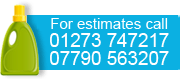 Why choose Squeaky Clean Cleaning Services?
We simply offer reliable and consistently high standard of service at exceptional value for money along with a friendly but professional customer service for our local businesses in Brighton and Hove areas
Our charges for office cleaning start from £8.00 per visit